In 2008, the first citizenM hotel opened at Amsterdam's Schiphol Airport. It was, in a word, different. No reception desk, no lobby, no white-glove restaurant. The team was the perfect size – big enough for fabulous service, yet small enough for guests to see the same friendly faces again and again.
It was so successful, we did it again and again (and again). Today, we have 27 hotels in 17 cities – and we opened three of them in London.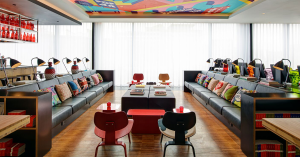 The first is citizenM London Bankside hotel. With Borough Market on one side, Tate Modern on the other, it's perfect for citizens of the world who need a giant bed at the end of a busy day.
The second is citizenM Tower of London hotel. Perched right above Tower Hill tube stop, we topped 370 smart bedrooms with a 7th floor cloudM rooftop bar, where the cocktails and the views are simply sensational.
The third is the oh-so-cool citizenM London Shoreditch hotel. 216 rooms (all with XL king-size beds) for global citizens looking for their fix of street art, fashion and food.
Three locations, three perfect places in the city of palaces, punk and 'the pint'.
And then it gets better – with the citizenM contactless stay. Using the free citizenM app, guests check-in on their own phone on the way to the hotel. One stop at the kiosk to pick up a key card and activate it with their phone. The entire room is also controlled by the app – lights, blinds, temperature, TV and entertainment. And on departure day, it's an easy app check-out.
Book any citizenM London hotel with rate code ABC/CCRA.