October 29 | Welcome to Rome!
Itinerary Introduction and Welcome Dinner

Upon arrival in Rome today, we are meeting you at 6 PM at our chosen hotel with the group and you will experience an orientation of the program ahead with a meet and greet of our staff and the fellow participants. This will be followed by a welcome dinner in one of our favorite restaurants called "Osteria Ponte Sisto" in Trastevere area as well as a tour of Rome by night.

Overnight at the Hotel Ludovisi Palace hotel in Rome.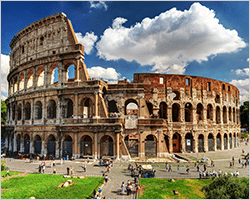 October 30 | Monumental and Ancient Rome Including a Visit to the Collosseum
Monumental and Ancient Rome Including a Visit to the Collosseum This morning we will experience the best of what the Eternal City - Rome - has to offer visitors such as the Circus Maximus, one of the secrets of Rome - the keyhole, the Pantheon, Piazza Navona with its four rivers fountain, Spanish steps and so on in our comfortable 8 passengers Max mini-vans which we use for our off-shore excursions from Civitavecchia, with our knowledgeable local driver-guides who bring the history of Rome to life and allow us to access the areas of Rome where the big-bus companies can never get into to see the highlights. After spending the morning by admiring the beauty of this marvelous City we will give you some free time to lunch in Piazza Navona and in the afternoon we will visit the Colosseum with an official tour guide. We will end the day by taking some rest at the hotel and let you enjoy the evening wherever you wish to go. Overnight at the Hotel Ludovisi Palace hotel in Rome.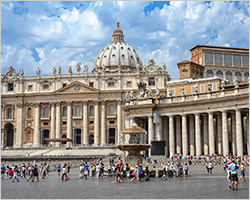 October 31 | Tour of the Vatican City
Today is a day dedicated to experiencing Vatican City in a way that our clients would if they were coming here from Civitavecchia - on a small group tour. It is a good idea today to wear comfortable footwear and dress in a conservative way. There is so much to see in Vatican City, the Vatican Museums, St. Peter's the Sistine Chapel and the Vatican Gardens with one of our official private tour guide. Before visiting the Vatican we break for lunch at 1 PM around the area with a good pasta and Coca-cola beverage and then you will begin your Vatican tour at 2 PM. After that we will do some inspections of our trusted hotels that offer superb services for guests. Group Dinner this evening is recommended at one of our trusting restaurants by the Spanish steps. Overnight at the Hotel Ludovisi Palace hotel in Rome.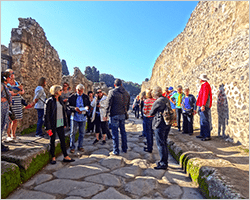 November 1 | Rome - Pompeii - Sorrento
An incredible day awaits us today discovering one of the most visited archeological ruins in the world - Pompeii. We will depart Rome this morning at 09:00 AM and will begin our descent down the Autostrada Del Sole towards Naples. From Naples we will make our way over to Pompeii, where you will have the chance to experience a guided walking tour with a local English Speaking guide that our clients get to experience when they book a tour through us from either Sorrento - the Amalfi Coast - or their cruise ship in Naples. It one thing to visit Pompeii - and completely another to visit it with a local who knows all the ins and outs! Following lunch in Pompeii, we will head down the Sorrentine peninsula, where there will be some time for photographs. In Sorrento, there will be time to settle into the hotel - and time for free time in the fternoon, before our group welcome dinner this evening in Sorrento at one of our recommended restaurant.....Delicious Pasta with such sweet tomato souce in it paired with a tasteful glass of wine !!! Overnight at Hotel La Favorita.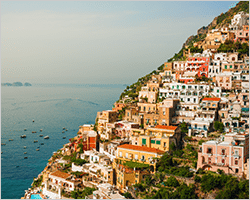 November 2 | Full Day Tour of the Amalfi Coast
This morning we begin at 9 AM our descent down one of the most beautiful coastlines in the world - the Amalfi Coast and over the course of the day, we will visit towns such as Conca dei Marini - Ravello, which in the off-season are a sheer delight to visit - Positano with lunch right at the top of the mountains in a restaurant called "La Tagliata" or "Da Costantino" with a gorgeous views overlooking the magnificent Amalfi Coast. Following lunch, we will continue on with our tour. Many stops will be made along the way including at different local artisans that we work with and various others. Return to Sorrento in the late afternoon with some restaurant recommendations given and a pleasant walk in Sorrento on your own for the evening. Overnight at the Hotel La Favorita.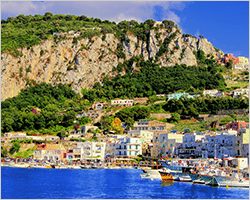 November 3 | The Island of Capri: Tour around the Island by Boat and Time for Exploring the Island
Today will be a day dedicated to enjoying the beautiful island of Capri. We will depart Sorrento at 9:00 AM and board a public or private boat - hydrofoil, which will take us to the island. We will have a private tour guide taking you to "La Piazzetta" main square and see the Augustus gardens nearby as well as the area of Anacapri where you go up Mount Solaro overlooking the stacks. Sandwich and beverage for lunch is on the house today and in the afternoon we will have a chance to see the blue and the white grottos surrounded by the island of Capri. Return to Sorrento in the evening and free time for you given to rest and get ready for your last day in Sorrento before saying ARRIVEDERCI ITALY and flying back to North America. Overnignt at La Favorita.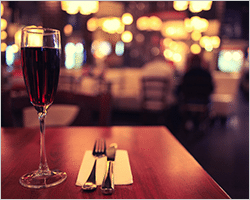 November 4 | Sorrento: Morning at Leisure until noon - Afternoon Hotel Inspections - Evening Cooking Course Demonstration and Dinner with Live Music by Gio' Patti
This morning will be yours to enjoy at leisure in Sorrento. Starting at 12:00 noon, we will beging a few site inspections in Sorrento, visiting a private villa that we use for our guests and a few hotels which are included as part of our packages. In the evening, starting at 18:00 PM, we being our cooking course demonstration in the centre of Sorrento, where we can learn all about the gastronomic pleasures of the area and learn how to make fresh pasta as well as testing many varieties of wine. Following the cooking course, we will enjoy dinner and live music by Gio' Patti an Italian Pop star! Overnight at Hotel La Favourita.
November 5 | Time to say Arrivaderci - Transfer back to Rome
This morning You will have breakfast and depart at 8 AM to head back to Rome and say Arrivederci !!! We are more than happy to accommodate you with all your needs such as private transfers for those who are deciding preferably to fly out from Naples, just let us know. We are anticipate returning to Rome no later than 12 PM for those who have flights in the early afternoon. For any others who are traveling on their own, we will also a midday stop requested at the main train station and the Leonardo da Vinci airport in Rome.